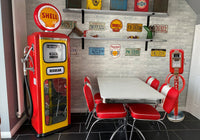 Vintage Gas Pumps
At Vintage Gas Pumps, we specialise in customising 1950s-style reproduction gas pumps to suit your unique requirements.
Select from various functions, such as a fridge, display cabinet, or electric charger, as well as your preferred brand and colour scheme for the sides, front, and top, while our team handles the rest.

Whether for display in a car garage, man cave or as part of a themed restaurant or business, these reproduction vintage gas pumps are sure to make a statement and capture the imagination of everyone who sees them.
View our vintage petrol pumps
Bringing the Past to Life: Our Reproduction Gas Pumps
We manufacture reproduction vintage gas pumps in tribute to the iconic design and style of the 1950s.
Our pumps are made using high-quality steel, just like the originals from back in the 1950s, ensuring that they are both durable and authentic in appearance. In addition, the attention to detail in these reproduction pumps is truly remarkable, with every aspect of the design, from the curves of the body to the intricate details of the illuminated globes, being meticulously replicated.
The result is a stunningly accurate representation of the classic 1950s gas pump, perfect for collectors and enthusiasts looking to relive the nostalgia of that era.
Introducing 1950's Reproduction Vintage Air Meter
Experience the nostalgia of a bygone era with our meticulously crafted 1950's Vintage Air Meter. These stunning reproductions are designed to transport you back to the golden age of Petroliana, capturing the essence of the 1950s with remarkable authenticity.
Order your 1950's Vintage Air Meter today